Today, we will share interesting ChatGPT-based extensions that greatly simplify monotonous tasks and Internet browsing.
If you want to speed up your YouTube browsing, try a "YouTube summary with chatGPT." It's a free Chrome extension that gives you a good overview of any video on a platform. Just install the extension, return to YouTube and refresh the page.
After launching, you'll see a summary box above a section with suggested videos. When you click on the box, the YouTube transcript and timestamps appear.
There are a few buttons above the transcript. The center button allows you to rapidly navigate to the point in a transcript when the video is playing. So you can understand what you're hearing.
If you wish to use the transcript as inspiration for your video, copy it using the button on the right.
And clicking the button on the left will automatically paste the whole video transcript into chat GPT and add a prompt for a summary.
Because of its capacity to save time, YouTube summary is arguably one of the best chatGPT Chrome extensions, so try it out today and see how much time it can save you.
Have you already gotten lost in the thousands of exciting and valuable ChatGPT prompts? Or maybe you have a particular file where you write down exciting options? Then the following extension can make your life much easier. It will help you find or share interesting prompts with others. ChatGPT Prompt Genius will allow you to quickly find and add prompts to your collection using the functionality of templates.
You will able also to search, categorize, and select prompts directly on the website, making it easier to find innovative and effective ways to use them.
Keep in mind that the extension may ask you for permission to access Reddit. According to the developers, this is only to allow access to the r/ChatGPTPpromptGenius and to help format the prompts when you submit them to that subreddit.
Are you feeling worried and overwhelmed by an unanswered email inbox?
Smart Reply in Gmail has not seen much progress since its birth in 2017, and the replies are somewhat restricted. ChatGPT, on the other hand, changes everything.
ChatGPT Writer will save you time by allowing you to compose whole emails and messages in chatGPT. No more wasting time typing out duplicate emails. The extension handles all of the legwork for you.
This plugin is compatible with all email providers, although it works best with Gmail. Just install it, then return to your email and reload the page. Then, next to the "Send" button, click on the chatGPT author symbol and briefly type what you want to reply. Next, click "create a reply," and the extension will generate a polite version of your answer. Finally, click "Send" after inserting the created response.
You may now work through your emails more quickly and efficiently. Give it a try, and start saving time right away.
Have you ever wanted to discover the most recent information via ChatGPT but noticed that it only contained data up to 2021? With the Web ChatGPT Chrome extension, you can instantly access the most up-to-date information.
It works by analyzing the current web search results. The plugin searches the results for information that may be relevant to your query and then displays it to you in text form, along with a link to the original article.
You can also narrow down the results by specifying the number of items you wish to see. Alternatively, you may use various criteria, such as region and time. You may even customize how the prompt appears.
With this plugin, you don't have to switch between Google and chatGPT constantly. So please try it to get the latest information from the web and chatGPT.
The following application is not precisely a Chrome extension, but you decided to add it to our list to show all the possibilities of the ChatGPT application and implementation.
Whatsapp-GPT is a script that requires a few steps to make it work:
Run WhatsApp from a phone number using the golang library
Dedicated browser in another window that controls ChatGPT.
Run two terminals: main.go, and python server.py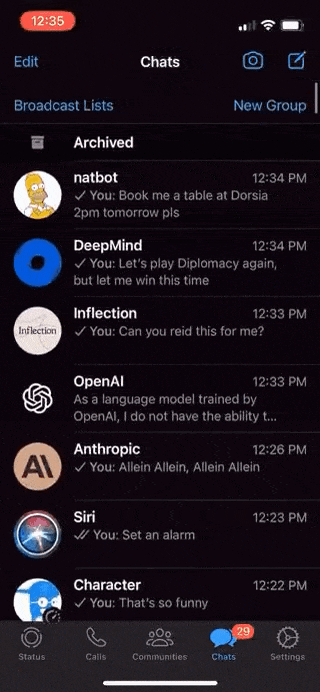 If you meet all the conditions, you will be able to ask your questions and receive answers from ChatGPT directly on WhatsApp.
Are you tired of scrolling through search results to get to the right solution you're looking for? Then check out the ChatGPT extension for Google.
With its help may receive the answers you need directly from your Google search results.
Of course, there are cases when standard search results can better answer your question, but this extension will help you get the information you need without having to go to many sites and waste your time.
So please give it a go and see how it works for you.
Do you want to make valuable contacts but need to figure out what to say during meaningful online conversations? Don't worry; we have the ideal tool for you.
Merlin, a new chatGPT addition, may assist you with quickly crafting a professional response.
Refresh the page after installing the extension. To open the Merlin box, select the text you wish to respond to and click Cmnd + M on Mac or Ctrl + M on Windows.
Enter your message, and Merlin will automatically rewrite it professionally.
You may use the app to respond to tweets, YouTube, Facebook, or Reddit comments or discuss some projects with your colleagues.
Do you ever wonder what to write about on Twitter? Then try TweetGPT. Once you install the extension, you'll see a new icon in your message window. Now, click on this icon to write a new tweet, and ChatGPT will generate a new message for you. The extension will choose a random type of tweet: positive, negative, controversial, etc.
The algorithm will choose the topic for the message based on trending topics in social networks. And if you want to write a reply to another user's message, it will be generated based on their tweet.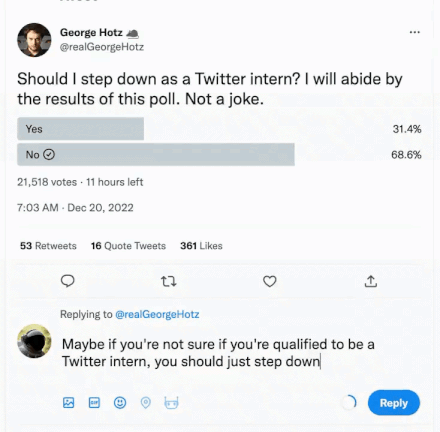 It is also worth noting that the extension sometimes works incorrectly, and when tweetGPT is active, opening ChatGPT seems to cause an error. However, this problem may be solved by the developer in the future.
As the name implies, the extension adds ChatGPT response results to Google search results.
You can choose the scenario by which the extension is triggered using the settings. It can be either an automatic answer for each query, displaying when you click on the button or triggering only when there is a question mark.
The flexibility of customization, various design options, and syntax highlighting make ChatGPT for Search Engines one of the best extensions in its niche.
If separate extensions for Twitter or Google are not enough for you, ChatGPT Chrome Extension should fulfill all your desires.
The reason is that it allows you to add A.I. text to any text input window.
To run the extension, you must clone the repo to your local machine and install dependencies.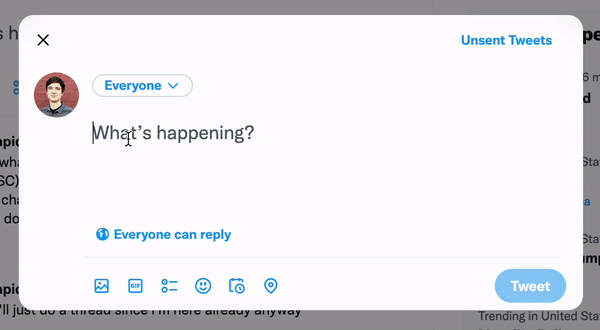 In case of a successful setup, a new Ask ChatGPT item should appear in your context menu.
Do you want to be known as a visionary? ChatGPT can help you with this. Just click on the link in the header, then choose the writing style and the industry in which you want to make a prediction. After that, specify how detailed the answer should be and click "generate."
A.I. will generate a prediction, and you only need to post it on Twitter.
Although Predict 2023 with A.I. is not a Chrome extension, we included it to entertain you.
P.S. This is our playful prediction for the following year.
1. 🌍 "Going green" will finally become fashionable, as all the young hipsters realize that their overpriced lattes and avocado toast are destroying the planet. They'll start using reusable straws and totes, and even go as far as composting their food waste.
2. 🌱 "Sustainable fashion" will become the new buzzword, as people finally catch on to the fact that fast fashion is a significant contributor to environmental degradation. They'll start buying secondhand clothing and supporting brands that use sustainable materials and ethical labour practices.
3. 🏞 "Eco-tourism" will become all the rage, as people flock to exotic locations to "experience nature" and "give back to the environment." But let's be honest; they're mostly just looking for Instagram-worthy photo ops and a chance to brag about their "sustainable" vacation.
4. 🌞 "Green energy" will become the new normal, as people realize that burning fossil fuels is not only bad for the environment but also expensive. Solar panels and wind turbines will become more common, and electric cars will finally become mainstream.
5. 🏡 "Sustainable living" will become the new trend, as people start to understand that they can't just keep consuming without regard for the planet. They'll start looking for ways to reduce waste, conserve resources, and live sustainably.
We hope you have found an interesting extension that can make it easier for you to write text or search for information on the Internet. And If you want to develop your AI-based service, don't hesitate to contact us. We will be happy to help you with this.